County Durham County Durham is a ceremonial county and unitary district in North East England. The county town is Durham, a cathedral city. The largest settlement in the ceremonial county is Darlington, which is a borough administratively independent from County Durham, as are the county's two other boroughs of Hartlepool and Stockton-on-Tees.

The ceremonial county borders Tyne and Wear, Northumberland, Cumbria and North Yorkshire; the borough of Stockton-on-Tees is unique in England in being divided between two ceremonial counties, with the part of the borough north of the River Tees being in Durham and the part south of the Tees being in North Yorkshire. Historically, the county of Durham included the southern area of the modern county of Tyne and Wear, including Gateshead and the city of Sunderland, and bordered Northumberland, Cumberland, Westmorland and the North Riding of Yorkshire.

The county has a mixture of mining and farming heritage, as well as a heavy railway industry, particularly in the southeast of the county in Darlington, Shildon and Stockton. Its economy was historically based on coal and iron mining. It is an area of regeneration and promoted as a tourist destination; in the centre of the city of Durham, Durham Castle and Durham Cathedral are UNESCO-designated World Heritage Sites.
Showing 1 - 2 of 2 Properties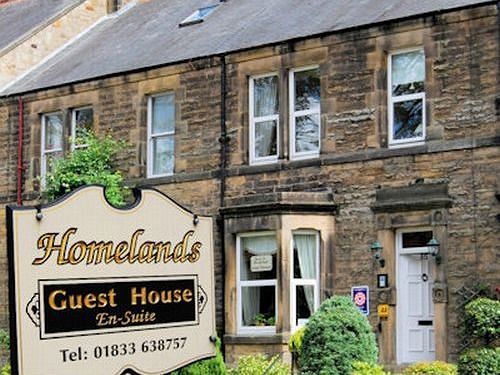 Homelands Guest House
Visitors return year after year to enjoy the beauty of County Durham, the North Yorkshire countryside, Teesdale and the Pennines from the relaxing and luxurious comfort of Homelands Guest House. We are proud of our facility and offer a warm and homely experience with home baked treats on arrival...
Bonners Lodge Bed and Breakfast
Our guests will always enjoy a warm and friendly welcome and accommodation of a very high standard. Relax in one of our luxurious centrally heated bedrooms with ensuite bathrooms, warmed fluffy towels, comfortable beds with exquisite Egyptian cotton sheets. Enjoy our lounge with lovely views over...